Uncategorized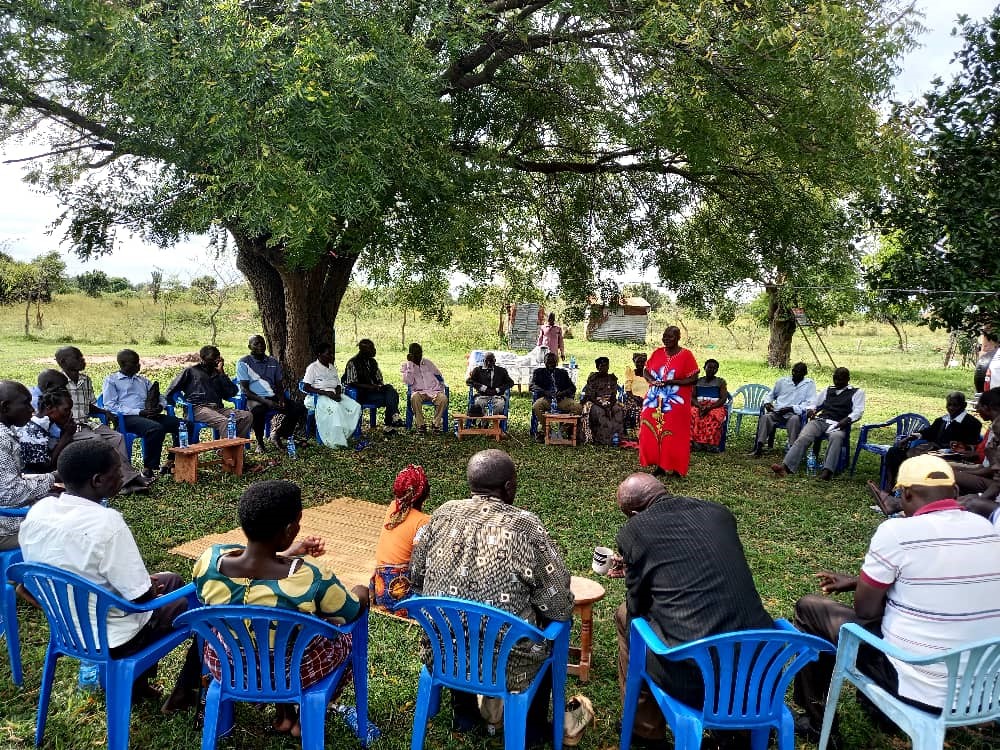 Strengthening custodianship of Bagungu Sacred Natural Sites and Ancestral lands along Lake Albert
PROJECT TIMEFRAME: 6 Months
REPORT SUBMITTED: May 5th 2022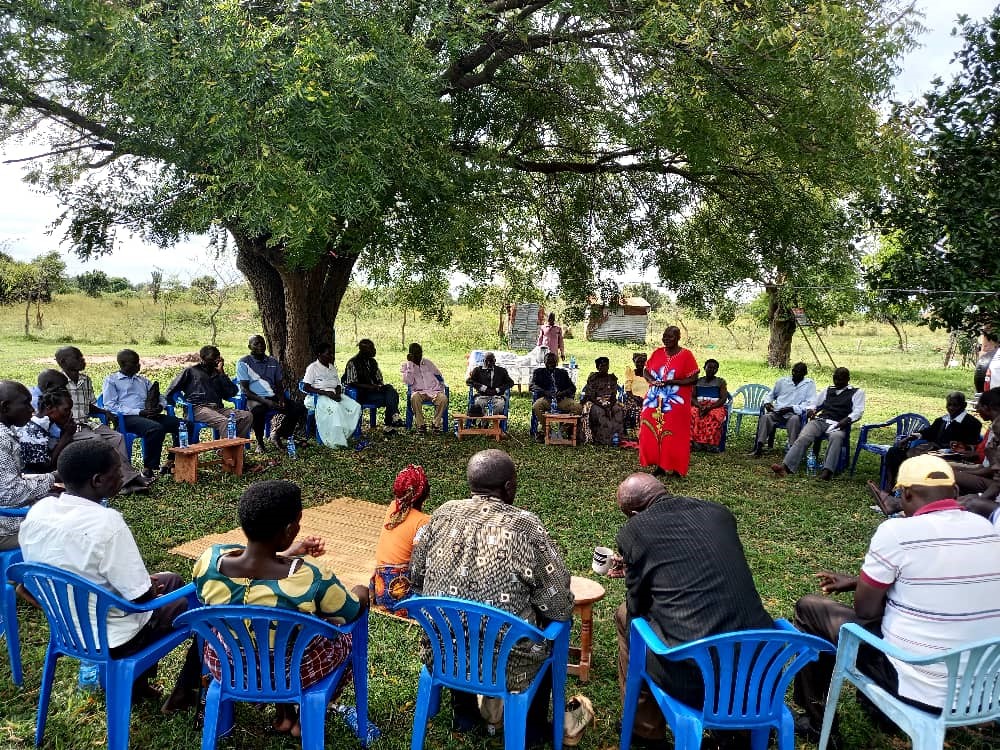 Custodians and elders of Bagungu sacred Natural Sites attending a 5-day retreat at Albert Nile Hotel in Buliisa district western Uganda
The Background:
African Institute for Culture and Ecology (AFRICE) has been facilitating continuous dialogues for the Bagungu community since 2017, to rebuild traditional structures to ensure stable and continuous traditional practices, particularly around the protection of their sacred natural sites and ancestral land in Buliisa district of Western Uganda. Through these dialogues, custodians have been able to document the Bagungu customary laws and have them recognized by Buliisa district council. The process has led to the drafting and passing of the district Ordinance to protect the sacred natural sites and recognize customary laws. The Ordinance is currently before the Attorney General for approval.
The dialogues bring together key representatives of the 26 Bagungu custodian clans (104 persons in total) i.e the Chief custodian, his assistant, a foreteller/medicine man/ woman (kibandwa), one who is in charge of preparing ritual objects especially seeds. The dialogues have also seen custodians organize the Bagungu women farmers into a group to recuperate lost indigenous seeds, to be used to perform rituals in the sacred natural sites and have healthy food as well.
The agroecological practices used by the indigenous women farmers and the legal precedents being advocated for, by the custodians and the community seek to realize regenerative ecosystems and community food security. This task required conscious steps and processes that included deeper work by custodian clans.
The ongoing retreats aim at deepening the discussions, identifying spiritual and cultural institution knowledge gaps. In the previous retreats, custodians realized that Bunyoro Kitara kingdom, which is the cultural institution where Buliisa district is found, being the chief custodian of the Bagungu norms and culture was previously not following these processes, but has since been brought on board to have a deeper understanding of the Bagungu processes, especially plans to implement the ordinance.
The Project
On 21st January 2022, AFRICE received USD 9,994 funding from Sacred Fire Foundation, together with match funding from other partners (Rettet den Regenwald e.V.- RdR) to enable her to:
Conduct a 5-day retreat of custodians of sacred natural sites, their assistants, clan leaders, foretellers (kibandwa) and custodians of ritual objects (mwetweka rukimba). This retreat was meant for this core structure to have deeper understanding of each ones' roles in strengthening ritual performance and plans for the implementation of the ordinance in Buliisa district.
Organize a 2-day long meeting of women custodians of indigenous seeds to have a deeper understanding of their roles in providing sacred seed in the ongoing processes of rigorous ritual performance to heal the Bugungu ancestral land.
The retreat took place from 20th to 25th February 2022 at Albert Nile Hotel, while the meeting of women custodians of indigenous seeds took place from 27th -28th February 2022 at Kisansya East Village, all in Buliisa district.
Activity 1: 1 x 5-day retreat of 26 custodians to reflect on spirituality and seed custodianship
Activity Goal: Strengthen confidence of custodians to be able to perform rituals and other practices around sacred natural sites
From 20th to 25th February 2022, AFRICE accompanied a 5-day residential retreat of 26 Bagungu custodians of sacred natural sites and elders at Albert Nile Hotel in Buliisa district. The purpose of the retreat was to strengthen traditional governance structures, in respect of the protection of sacred natural sites, found in forests and wetlands of Bugungu ancestral land. A total of 26 people attended the retreat. The group was comprised of 4 core custodial structure members from each, who included the Chief custodian, his assistant, a foreteller/medicine man/ woman (kibandwa) and the in charge of ritual objects especially seeds (mwetweka rukimba).
The custodians met and made self-assessment of their roles, their knowledge base, and ascertaining the existence of their custodial structures.
During the retreat, the custodians were able to deeply reflect on how to rebuild different community structures to ensure stable and continuous traditional practices around the protection of the sacred natural sites, rivers, wetlands and Lake Albert. During the retreat, some custodians observed that most custodians had forgotten their deeper work because they had been assimilated by the current modern lifestyles and beliefs.
Throughout the retreat, custodians reflected deeply on the role of each custodial clan representatives in rejuvenating traditional practices that can sustain the vitality of sacred natural sites. The following questions guided the retreat:
What is the composition of each custodial clan structure in terms of ancestral order?
Who are the current individual core structure members of each of the 26 custodial clans?
Number of core structure members currently missing from the core team of each custodial clan structure and why?
Does each member know his/her roles?
What type of rituals are done in each sacred natural site and how often are they performed (say number of times) in a year?
What is the role of individual custodial families (not clans) in performing the rituals?
Which type of ritual objects (seed varieties) do they use in performing different rituals?
What led to the failure of performing some rituals in respective sacred natural sites and how can this be addressed to revive ritual performance?
During this retreat, the following observations and recommendations were made:
The custodial core teams were found to be having the gaps and required urgent filling. Some were found to be having 3 people, other sites had only the custodian and the custodian in charge of ritual objects only.
The 5 chief custodians were asked to institute the traditional processes in all the 26 custodial clans to fill the gaps consequently, 6 Consultative meetings, each constituting 20 elders, clan leaders and custodians at clan level be held to identify real traditional clan governance structures to eliminate masquerades and organise/plan for ceremonies to replace the dead or the ones who converted to Christianity.
The retreat discovered, on advice of very old custodians, that each core team is supposed to have 5 members, instead of the 4 formally known. The pillar cutter (Mutema nkondo) had been left out in the custodian structure. They agreed that he should be included when filling the gaps.
It was revealed that some sacred natural sites were continuously being threatened by oil and gas activities for example, some custodians were being forced by clan and family members to surrender sacred natural sites to the oil infrastructure for future compensation, although some custodians were still resistant. (e.g Mukongoro sacred site in Kigwera sub county). To address this the meeting proposed very urgent meetings of village councils, Area land committees and oil companies across the district to iron out the threat on SNSs. The custodians requested AFRICE to work with chief custodians to engage Buliisa district which should call these meetings of custodians and oil companies to urgently address the crisis of land compensations, currently targeting sacred natural sites.
Customary Law Board (during ordinance implementation) should start engagements with Uganda Wildlife Authority/National park and oil companies to allow custodians access their sacred sites in protected areas and perform rituals.
Custodians and clans to support clan women farmers and the person in charge of ritual seeds (mwetweka rukimba) in respective clans and ensure sustainable seed diversity for ritual performance.
Activity 2: 2-day meeting of women custodians of seeds training young women on sacred seed diversity
Activity Goal: To Strengthen the practices of women to enhance seed diversity for ceremonies and food sovereignty.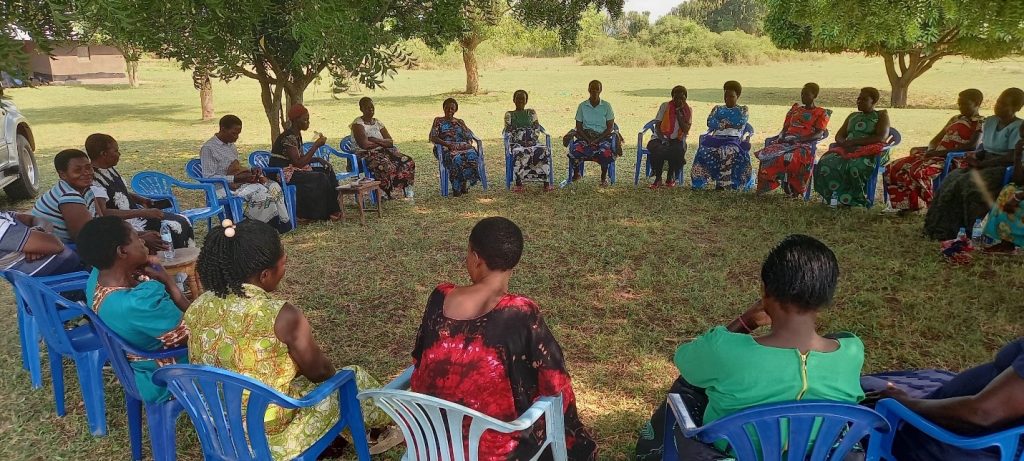 Women custodians of seed attending a 2-day training in Buliisa in February 2022
A 2-day meeting of 24 women including 14 old custodians of seeds and 10 younger women was conducted between 27th -28th of February 2022 at Kisansya East Village, Buliisa district, to discuss, the procedures of implementing the ordinance. The meeting that was chaired by the chairperson of Buliisa women Tulime Hamu mbibo zikade Mildred Kunihira, aimed at strengthening the confidence of the women passionately engaged in enhancing seed diversity for ceremonies, and food sovereignty. AFRICE facilitated the meeting in terms of logistics and technical guidance
For the last 5 years, AFRICE has been engaged in nurturing back the confidence of the custodians of sacred natural sites to do the required rituals and assisting women custodians of seed to revive the indigenous seeds needed for the rituals. The custodians of sacred sites who participated in this process are elders who are ageing. They are now training the next generation of custodians and strengthening the way the rituals are performed. In order to do this, the elder women custodians of seed also had to embark on training of more community younger women, to have a diversity of crops, especially millet and other crops for the ceremonies and food security. The coordinator of the group Margaret Kagore told the meeting that training a wider number of women would help establish the foundation for building the support and participation of the clans in the rituals by growing crops for household food and the ceremonies.
During the meeting the women resolved on the following going forward in case funds allow:
Continue supporting and training more young women seed custodians to increase diversity of sacred crops and training others.
Setting up a Community Seed Learning Centre at Kisansya village in Buliisa district to revive indigenous knowledge on food systems.
Establish a seed inventory to record names of all lost seeds and those recuperated
Revitalize traditional farming practices both at the proposed community seed learning centre and in their homes
To establish a millet garden at the centre and gardens of other seed varieties in their homes to increase crop diversity for rituals & food for aging custodians, thus enhanced food security and food sovereignty.
Conduct seed ceremonies at the centre as a way to train more young women to increase household food.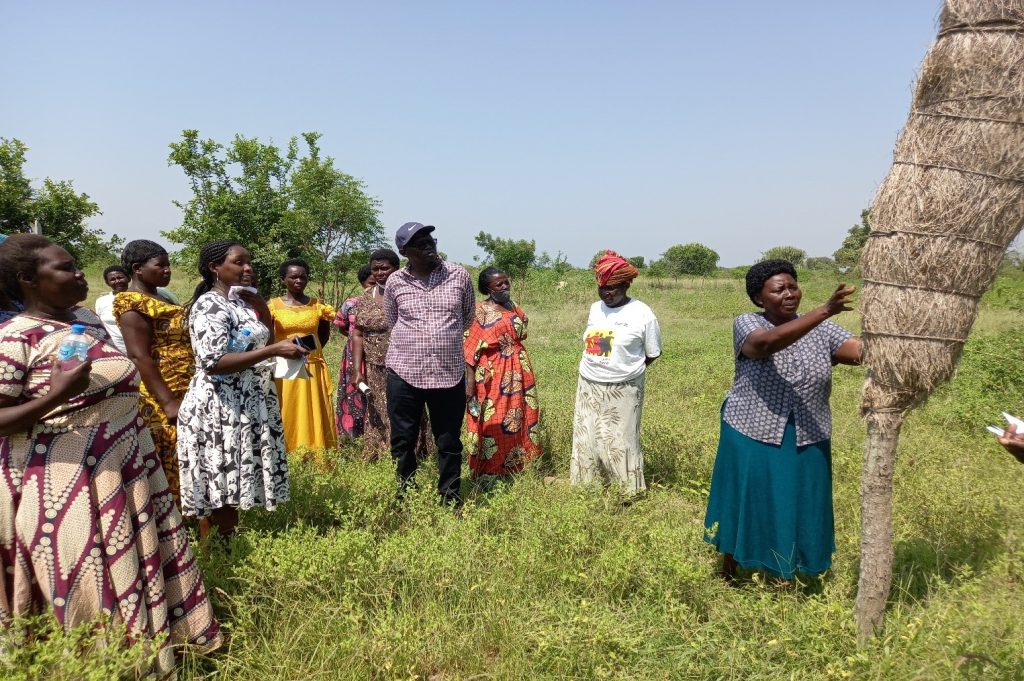 Women farmers displaying their traditional granaries, where they store food
CONCLUSION:
There has been much disorder in the Bagungu ancestral lands due to outsiders moving in and extractive projects, which destabilise the communities and ecosystems. Food systems were also affected by hybrids. The ordinance acknowledges the need to protect sacred natural sites to ensure they are not encroached upon. The custodians are keen to do this as a priority to ensure the sites are protected. The trainings of women seed custodians on food diversity and retreats to strengthen custodial clans on ritual performance are strategies to build the resilience of the Bagungu people, their sacred natural sites, traditional food systems and ancestral lands in the face of the growing threats of climate change and destructive projects.
Support from Sacred Fire Foundation led to the conducting of a very successful retreat of custodians. It sets the precedent for the custodians to make a deeper analysis of their roles, especially routine performance of rituals to connect deeply to their ancestral land. The women custodians of seeds have also made their commitment to enhance food security and aid the increased performance of rituals in the sacred natural sites, through providing enough seeds for this work.
This work is a process, and therefore still ongoing. AFRICE continues to solicit for more financial support to accompany the work of indigenous Bagungu communities in Buliisa.
NOTE that in addition to the funding from Sacred Fire Foundation, some additional funds from Rettet den Regenwald e.V.(RdR) another partner of AFRICE were added to meet some few costs on the retreat and the women meeting.(Thanks to this additional funds that we held a 2-day meeting instead of the planned 1-day meeting for training of women). The number of women also increased from the planned 24 to 35 women and we held a two-day meeting instead of one-day meeting. The match-funding also catered for the prevalent increased prices of commodities and services in Uganda. For example, on retreat costs of food and accommodation increased from what we had planned. This has further contributed to AFRICE wider work in the Bagungu indigenous community.